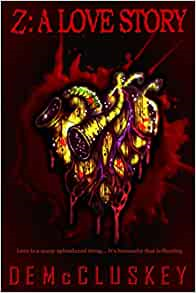 When Horror and Romance collide, the world will never be the same again.
Kevin is your normal, everyday kind of guy. An office worker in a multi-storey tower block in downtown London, he feels like his existence is being swallowed up by the monster metropolis where he lives and works.
Ignored, lonely, and lovelorn, he's desperate for a life, a reason to go on.
He has one in mind. His co-worker, Rachael.
She is everything that he has ever wanted. Four thousand miles away, someone else has other ideas about everything they have ever wanted ...
As hostilities between two superpowers escalate, a new weapon is created.
Agent Z is a super-weapon, capable of delivering a devastating blow to the enemy.
In the wrong hands, however, it can be something else entirely.
Love is a many splendored thing. Humanity, however, … that is fleeting!

Superb fun and signed and dedicated upon request.