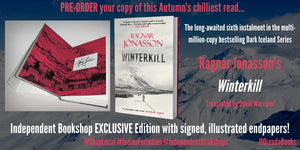 THE STUNNING FINAL INSTALMENT OF THE MILLION-COPY BESTSELLING DARK ICELAND SERIES'A world-class crime writer' 
Sunday Times
'Ragnar Jónasson writes with a chilling, poetic beauty' 
Peter James
'Ragnar does claustrophobia beautifully'
 Ann Cleeves
When the body of a nineteen-year-old girl is found on the main street of Siglufjörður, Police Inspector Ari Thór battles a violent Icelandic storm in an increasingly dangerous hunt for her killer … The chilling, claustrophobic finale to the international bestselling Dark Iceland series. 
Easter weekend is approaching, and snow is gently falling in Siglufjörður, the northernmost town in Iceland, as crowds of tourists arrive to visit the majestic ski slopes.
Ari Thór Arason is now a police inspector, but he's separated from his girlfriend, who lives in Sweden with their three-year-old son. A family reunion is planned for the holiday, but a violent blizzard is threatening and there is an unsettling chill in the air.