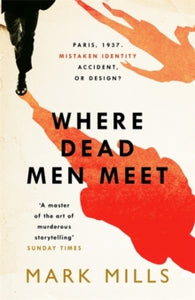 A proof copy so not got cover art or barcode- is nearly new, carefully read once.
A return to the period adventure thriller in WHERE DEAD MEN MEET re-establishes Mark Mills as:'A master storyteller' Val McDermid.
 For fans of William Boyd, Charles Cumming or Robert Harris
Paris, 1937. Luke Hamilton - a junior air intelligence officer at the British Embassy - finds himself the target of an assassination attempt.

A clear case of mistaken identity, or so it first appears. As Luke is hunted across a continent sliding towards war, he comes to learn that the answers lie deep in a past that predates his abandonment as a baby on the steps of an orphanage twenty-five years ago. From the author of the bestselling THE SAVAGE GARDEN, and set against a terrific backdrop of Europe on the cusp of the Second World War, this is a compelling novel, rich in adventure, espionage, secrets and lies.