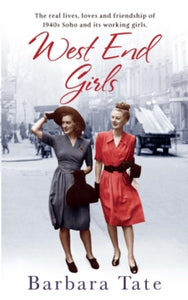 Now a Top Ten bestseller. Barbara Tate was 17 when she heard the whispered word that would change her life: Soho. It would take four years for Barbara to escape her loveless home but when she finally made it to the forbidden streets of Soho - just as London was recovering from the trauma of the second world war - things would never be the same again.
There the naive Barbara meets the beautiful and capricious Mae. When she takes a job as Mae's maid, Barbara imagines she'll be housekeeping. But down a shabby backstreet, Barbara discovers the secret lives of Soho's working girls.
An astonishing world full of fierce friendships and bitter rivalries, dangerous men and desperate measures, Barbara soon learns that taking the money from a staggering supply of punters and making copious amounts of tea are only the bare essentials. She will need to be nursemaid, protector and confidante to impossible, adorable, self-destructive Mae. The tumultuous and heartrending friendship at the heart of this spellbinding tale gives us a window on a people and a place almost lost to us.
It's a true story of adventure, survival and growing up, told with experience, honesty and real heart.