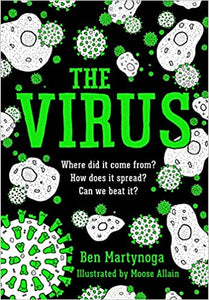 WHERE DID IT COME FROM, AND HOW CAN WE BEAT IT?

It's 15,000 times smaller than a flea and we can kill it with a bar of soap – so how did a tiny, fragile virus change the world?

Join science expert Dr Ben Martynoga and illustrator extraordinaire Moose Allain on a fascinating, sometimes funny, and occasionally scary journey through the world of viruses.

Explore the science behind viruses and the COVID-19 pandemic in a fascinating story of hijacked human cells and our own internal emergency services.

Along the way, you'll learn what viruses are, how they work, and how we can overcome – or at least learn to live alongside – those that do us harm.