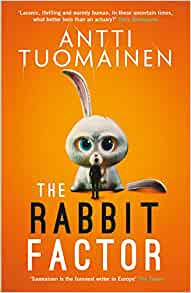 An insurance mathematician's carefully ordered life is turned on its head when he unexpectedly loses his job and inherits an adventure park … with a whole host of problems. A quirky, tense and warmly funny thriller from award-winning Finnish author Antti Tuomainen.

**Soon to be a major motion picture starring Steve Carell for Amazon Studios**
'Laconic, thrilling and warmly human. In these uncertain times, what better hero than an actuary?' 
Chris Brookmyre
'
The antic novels of Antti Tuomainen prove that comedy is not lost in translation …  Tuomainen, like Carl Hiaasen before him, has the knack of combining slapstick with genuine emotion' 
The Times
'The funniest writer in Europe, and one of the very finest. There is a beautiful rhythm and poetry to the prose … original and brilliant story-telling' 
Helen FitzGerald_______________

Just one spreadsheet away from chaos…
What makes life perfect? Insurance mathematician Henri Koskinen knows the answer because he calculates everything down to the very last decimal.
And then, for the first time, Henri is faced with the incalculable. After suddenly losing his job, Henri inherits an adventure park from his brother – its peculiar employees and troubling financial problems included. The worst of the financial issues appear to originate from big loans taken from criminal quarters … and some dangerous men are very keen to get their money back.
But what Henri really can't compute is love. In the adventure park, Henri crosses paths with Laura, an artist with a chequered past, and a joie de vivre and erratic lifestyle that bewilders him. As the criminals go to extreme lengths to collect their debts and as Henri's relationship with Laura deepens, he finds himself faced with situations and emotions that simply cannot be pinned down on his spreadsheets…
Warmly funny, rich with quirky characters and absurd situations, 
The Rabbit Factor
 is a triumph of a dark thriller, its tension matched only by its ability to make us rejoice in the beauty and random nature of life.
_______________
'British readers might think they know what to expect from Nordic noir: a tortured detective, a bleak setting, a brutal crime that shakes a small community. Finnish crime novelist Tuomainen turns all of this on its head … The ear of a giant plastic rabbit becomes a key weapon. It only gets darker and funnier' 
Guardian
'Antti Tuomainen turns the clichéd idea of dour, humourless Scandi noir upside down with 
The Rabbit Factor
. Dark, gripping and hilarious … Tuomainen is the Carl Hiaasen of the fjords' 
Martyn Waites
'
The Rabbit Factor
 is a triumph, a joyous, feel-good antidote to troubled times' 
Kevin Wignall
'Finland's greatest export' 
M.J. Arlidge
'The Rabbit Factor is an astounding read. It has the suspenseful twists of a thriller, the laugh-out-loud moments of a comedy and a tragic dimension that brings a tear to the eye' 
Crime Fiction Lover
'You don't expect to laugh when you're reading about terrible crimes, but that's what you'll do when you pick up one of Tuomainen's decidedly quirky thrillers' 
New York Times
'Tuomainen is the funniest writer in Europe' 
The Times
'Right up there with the best' 
Times Literary Supplement
'Tuomainen continues to carve out his own niche in the chilly tundras of northern' 
Daily Express