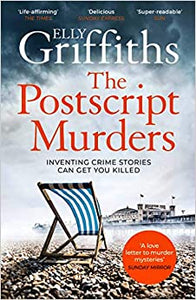 Elly Griffiths signed books at Perfect Crime!
INVENTING CRIME STORIES CAN GET YOU KILLED

'A LOVE LETTER TO MURDER MYSTERIES' SUNDAY MIRROR

The ultimate gripping murder mystery to curl up with, from the bestselling author of The Stranger Diaries and the Dr Ruth Galloway Mysteries

The death of a ninety-year-old woman with a heart condition should absolutely not be suspicious. DS Harbinder Kaur certainly sees nothing to concern her in carer Natalka's account of Peggy Smith's death.

But when Natalka reveals that Peggy lied about her heart condition and that she had been sure someone was following her...

And that Peggy Smith had been a 'murder consultant' who plotted deaths for authors, and knew more about murder than anyone has any right to...

And when clearing out Peggy's flat ends in Natalka being held at gunpoint by a masked figure...