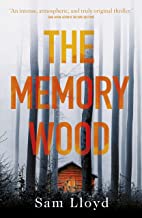 We did an event with Sam Lloyd, he was fab, his book is sensational, I'd highly recommend it for any fans of dark, tense psychological thrillers. He is from Southampton and my relatives live where he has set the book.
Signed Copies too...
When Elijah stumbles across thirteen-year-old Elissa, in the woods where her abductor is hiding her, he refuses to alert the police. Because in his twelve years, Elijah has never had a proper friend. And he doesn't want Elissa to leave.
Not only that, Elijah knows how this can end. After all, Elissa isn't the first girl he's found inside the Memory Wood.
As her abductor's behaviour grows more erratic, Elissa realises that outwitting strange, lonely Elijah is her only hope of survival. Their cat-and-mouse game of deception and betrayal will determine both their fates, and whether either of them will ever leave the Memory Wood . . .