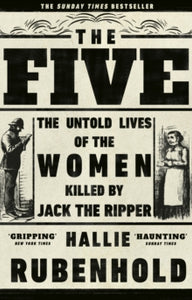 We were so lucky to do a big event with Hallie for the HB, we sold out I'm afraid. 
She has risen to the top and deservedly so and won a huge Prize.
She is a lovely person and a fab researcher and brilliantly insightful writer.
Her other books are also well worth reading, she delves into feminism in a very wonderful way.
THE MULTI AWARD WINNING #1 SUNDAY TIMES BESTSELLER___'An angry and important work of historical detection, calling time on the misogyny that has fed the Ripper myth. Powerful and shaming.' GUARDIAN___Polly, Annie, Elizabeth, Catherine and Mary-Jane are famous for the same thing, though they never met. They came from Fleet Street, Knightsbridge, Wolverhampton, Sweden and Wales.
They wrote ballads, ran coffee houses, lived on country estates, they breathed ink-dust from printing presses and escaped people-traffickers. What they had in common was the year of their murders: 1888. Their murderer was never identified, but the name created for him by the press has become far more famous than any of these five women.
Now, in this devastating narrative of five lives, historian Hallie Rubenhold finally sets the record straight, and gives these women back their stories.
___'Devastatingly good. The Five will leave you in tears, of pity and of rage.' LUCY WORSLEY'
Fascinating, compelling, moving.' - BRIDGET COLLINS, author of THE BINDING___
Awards for The Five include:- Winner of the BAILLIE GIFFORD PRIZE for Non-fiction 2019- HAY FESTIVAL Book of the Year 2019- Winner of the Goodreads Choice Awards for History 2019
PRAISE FOR THE FIVE'Gripping' New York Times'At last, the Ripper's victims get a voice...
An eloquent, stirring challenge to reject the prevailing Ripper myth.' MAIL ON SUNDAY'
Devastatingly good. The Five will leave you in tears, of pity and of rage.' LUCY WORSLEY'
Dignity is finally returned to these unfortunate women.' PROFESSOR DAME SUE BLACK'
Haunting' SUNDAY TIMES
'What a brilliant and necessary book' JO BAKER, author of Longbourn'Beautifully written and with the grip of a thriller, it will open your eyes and break your heart.' ERIN KELLY'An outstanding work of history-from-below ... magnificent' THE SPECTATOR'Deeply researched' THE NEW YORKER