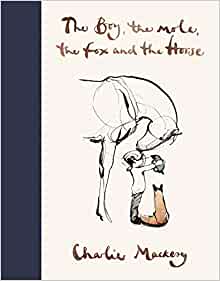 IF you buy just one book for yourself, buy this one.
If you need to buy presents, buy this book.
We have 1 Books are my Bag tote bag left which goes with the next order.
Charlie Mackesy has brought to life a fable worthy of Milne or Coehlo, it is just so good.
The Sunday Times Bestseller and New York Times Bestseller. A book of hope for uncertain times.
'Feeling a little blue? Meet the new Winnie the Pooh.' The Daily Mail
'A wonderful work of art and a wonderful window into the human heart' Richard Curtis
Enter the world of Charlie's four unlikely friends, discover their story and their most important life lessons.
The conversations of the boy, the mole, the fox and the horse have been shared thousands of times online, recreated in school art classes, hung on hospital walls and turned into tattoos. In Charlie's first book, you will find his most-loved illustrations and some new ones too.