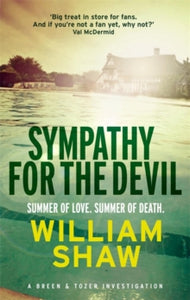 At present books 1-3 are Reprinting, so we are hoping you are good with just book 4
It can be read on it's own.
'Big treat in store for fans. And if you're not a fan yet, why not?' Val McDermid'
William Shaw is one of the great rising talents of UK crime fiction' Peter James
London 1969: A detective in love. A crime of passion
The devil: She made a profit from rich men.

They paid for her youth. She paid with her life. The angel: To investigate the prostitute's murder, DS Cathal Breen isn't scared to question powerful suspects.

The fall: But when a mysterious man from MI6 calls, Breen begins to fear he's uncovered a spy scandal. And then Breen's girlfriend Helen Tozer, with her ex-copper instincts, gets dangerously involved. Right or wrong, Breen knows he has too much to lose.

He can have no sympathy for the devil.