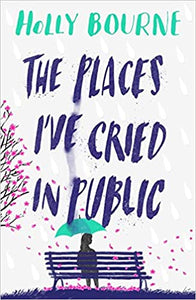 Lovely sprayed edges too. Holly Bourne is rather fab.

Funny and sad, this book urges girls to know their own worth. - The Guardian

Utterly page-turning and relatable - The Observer

Smart and beautifully written, this isn't just for YA readers. - Stylist

If we could go back in time and gift this to our younger selves, we absolutely would. It s a must-read for anybody going through heartbreak. - Yahoo

The Places I've Cried in Public tells the story of first love, loss, and rebuilding yourself after everything you thought made you is taken away. - Bustle


A must read for any young feminist and it teaches the importance of love, respect and empowerment in any relationship. Basically, it's a girl power knockout! - Shout

It looked like love.
It felt like love.
But this isn't a love story.

Amelie fell hard for Reese. And she thought he loved her too. But she's starting to realise that real love isn't supposed to hurt like this.

So now she's retracing their story, revisiting all the places he made her cry. Because if she works out what went wrong, perhaps she can finally learn how to get over him.