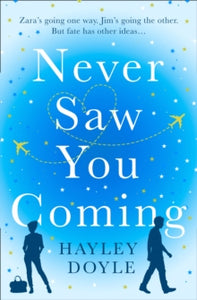 Some people go looking for love. Others crash right into it. 'Funny and smart - a breath of fresh air!' Claire Frost Zara Khoury believes in love - so much so that she flies from Dubai to Liverpool to be with a man she barely knows.

It's a risk, but she's certain that uprooting her life for Nick is the new start she needs. Jim Glover is stuck. Since his Dad died, he's put his dreams aside and stayed at home in Liverpool to care for his mum.

Trapped in a dead-end job, he's going nowhere - that is, until he gets a phone call that just might change his life.. Zara and Jim aren't supposed to meet. But then fate steps in, and when their worlds - and cars! - collide, the real journey begins...

A gorgeous tale about taking risks and living life to the full - perfect for fans of Beth O'Leary and Josie Silver. If you love Never Saw You Coming, don't miss Hayley Doyle's new book Love, Almost.
Hayley is from Crosby where we are based, we will be doing some PR and events with her soon too...