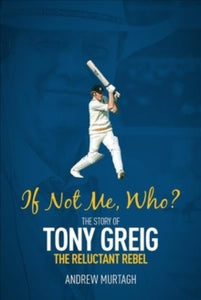 In March 1977, England cricket captain Tony Greig was arguably the most famous and popular sportsman in the country, and the best all-rounder in world cricket. He had recently led England to a famous series victory in India, her first successful campaign on the subcontinent since the Second World War. Then he had conjured a doughty performance from his travel-weary troops in the dramatic, one-off Centenary Test in Melbourne, narrowly losing by 45 runs.

Within weeks, though, his reputation was in tatters. He was branded a traitor and mercenary, stripped of the England captaincy and excluded from the national side. He was also relieved of the Sussex captaincy and banned from first-class cricket for eight weeks.

His involvement in the controversial 'Packer Revolution' had caused his fall from grace. Soon afterwards, he left England for good for a commentary career in Australia. At 6ft 7in, Greig was a giant of the game both figuratively and literally.

His life story is every bit as fascinating as the controversy that engulfed him.