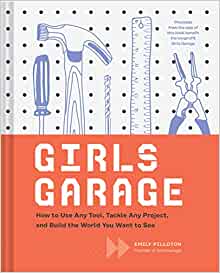 Girls Garage
 is the only book you'll ever need for a lifetime of building and repair. Packed with over 175 illustrated tool guides, 11 how-to projects, 21 essential skills, and 15 inspiring stories from real-world builder girls and women, 
Girls Garage
 will inspire you to fill up your toolbox and get building!
With a background in architecture and construction, Emily Pilloton started the nonprofit Girls Garage to give girls the tools to build the world they want to see. Since 2013, girls ages 9-18 have come to Girls Garage's workshop eager to use power tools and build real-world projects for their community. The 
Girls Garage
book puts that same power into girls' hands around the world, inviting them to join a thriving, diverse, and fierce movement of fearless builder girls.
Not sure which screws to buy? Need to fix a running toilet? With 
Girls Garage
, you'll have the expertise to tackle these problems with your own hands. Or maybe you want to get creative and build something totally new. A birdhouse? A bookshelf? 
Girls Garage
 has you covered. 
Girls Garage
will be both a trusted household resource and a wellspring of inspiration and encouragement in the vein of 
Women in Science and Headstrong: 52 Women Who Changed Science and the World
.
• Nonfiction books for women and girls age 14 and up
• Carpentry, home repair, building projects
• Inspiring DIY for teens, kids, and adults