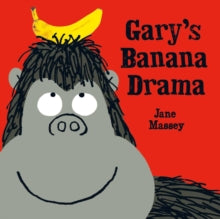 Jane Massey is rather good…
Gary is desperate for a banana. Could that be one singing in the tree? No! It's a bird's beak! Is that a banana whizzing through the air? OUCH! NO! It's a boomerang from Billy's show! Where ARE the real bananas? Alone and hungry, Gary is about to give up until . .

. WAIT! Could it be . .

. the BIGGEST BANANA IN THE WORLD? Featuring banana dogs, banana moustaches, banana space rockets and an adorable, banana-mad gorilla, Jane Massey's hilarious and vibrant picture book will make children hoot with laughter and fall in love with the hapless Gary.