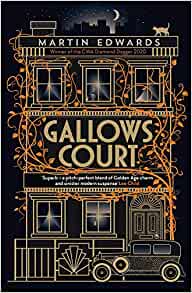 we have 3 left - signed at Perfect Crime
A superb Golden Age mystery packed with twists, from the winner of the Diamond Dagger 2020.
LONDON, 1930.
Sooty, sulphurous, and malign: this is a night where no woman should be walking the streets. But Rachel Savernake is not an ordinary woman. To Scotland Yard's embarrassment, she solved the Chorus Girl Murder, and now she's on the trail of another killer: a man responsible for a spate of deaths so violent that even newspapermen consider the details too foul to print.
But Jacob Flint, the naive young journalist manning The Clarion's crime desk, is looking for the scoop that will make his name. He's certain there is more to the Miss Savernake's amateur sleuthing than meets the eye.
Flint's pursuit of his story will lead him deep into a labyrinth of deception and corruption. And then, murder by murder, he will be swept inexorably to that ancient place of execution, where everything began and where everything will end: Gallows Court.
Reviews for Gallows Court:
'Superb a pitch-perfect blend of Golden Age charm and sinister modern suspense, with a main character to die for. This is the book Edwards was born to write' Lee Child.
'Packed with evocative period detail, twists and turns and a fascinatingly enigmatic anti-heroine' Financial Times.
'Edwards has managed, brilliantly, to combine a Golden Age setting with a pace that is bang up-to-date. A great sense of the era observed through a cut-throat-sharp eye, every page dripping with brilliant period authenticity' Peter James.
'A ripping tale of retribution and rough justice, set against a finely realised 1930s London. It reads as if Ruth Rendell were channelling Edgar Wallace' Mick Herron.
'Liberally spiced with mystery, suspense and action ... A thoroughly gripping read' Peter Robinson.