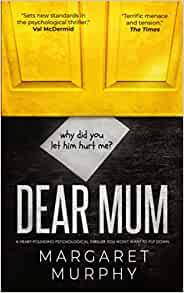 Shortlisted for the First Blood Award. A Sunday Times 'Christmas Cracker'
"A story of searing suspense and terror . . . thoroughly engrossing and 
one of the best books of the year. Read it
." Tangled Web
PLEASE NOTE THIS BOOK WAS FIRST PUBLISHED AS "GOODNIGHT, MY ANGEL"
A MOTHER'S WORST NIGHTMARE — JUST GOT WORSE
Six months ago, Kate's twelve-year-old daughter Melanie disappeared. It's been six long months since Kate identified her battered, lifeless body.
Kate is only just beginning to come to terms with her daughter's murder when a sinister message appears on her computer screen: 
WHY DID YOU LET HIM HURT ME, MUMMY?
More horrifying messages follow. Only one person could be doing this to Kate — Melanie's murderer.
Chief Inspector Harmon focuses his enquiries on Kate's abusive ex-husband David and her colleague, computer whizz-kid Adam Shepherd.
Kate has already lost the one thing that gave her life meaning. 
So, now she decides to fight, but can she unmask the killer before he wrecks what's left of her life?WHAT WOULD YOU DO?
PRAISE FOR "DEAR MUM"
"
Terrific menace and tension
, well climaxed." Marcel Berlins, 
The Times
"Sets 
new standards in the psychological thriller
 . . . a remarkable debut." Val McDermid
"
Unputdownable
." 
Crime Time