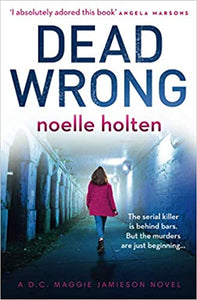 Signed at perfect Crime in liverpool
The serial killer is behind bars. But the murders are just beginning…
DC Maggie Jamieson's past comes back to haunt her in this dark and gripping serial killer thriller.
Three missing women running out of time…
They were abducted years ago. Notorious serial killer Bill Raven admitted to killing them and was sentenced to life.
The case was closed – at least DC Maggie Jamieson thought it was…
But now one of them has been found, dismembered and dumped in a bin bag in town.
Forensics reveal that she died just two days ago, when Raven was behind bars, so Maggie has a second killer to find.
Because even if the other missing women are still alive, one thing's for certain: they don't have long left to live…