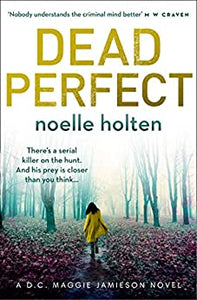 We have a few signed - Noelle Holten was at Perfect Crime with us!
'Hugely confident … harrowing, visceral … recommended' Ian Rankin
'Kept me hooked' Angela Marsons
'An excellent read' Martina Cole
'Gritty, dark and chilling' Mel Sherratt
A murdered woman…
When the body of a young woman is found in a local park, DC Maggie Jamieson knows she's dealing with no ordinary killer.  The murder victim has been disfigured; her outfit changed to resemble someone else.  Someone Maggie knows all too well…her close friend Dr Kate Moloney.
A determined detective…
Maggie is determined to keep her friend safe, but with Kate already struggling with a threatening stalker, Maggie now fears Kate's life is in real danger.  Who else would want to harm Kate and why else would the killer be turning his victims into exact replicas – his living dolls? 
Can Maggie find the depraved killer?  Or will Kate become his next living doll?