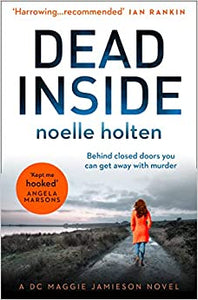 We have a few signed by Noelle Holten
'Hugely confident … harrowing, visceral … recommended' Ian Rankin
'Kept me hooked' Angela Marsons
'An excellent read' Martina Cole
'Gritty, dark and chilling' Mel Sherratt
A dark and gripping debut crime novel – the first in a stunning new series – from a huge new talent.
The killer is just getting started…
When three wife beaters are themselves found beaten to death, DC Maggie Jamieson knows she is facing her toughest case yet.
The police suspect that Probation Officer Lucy Sherwood – who is connected to all three victims – is hiding a dark secret. Then a fourth domestic abuser is brutally murdered.
And he is Lucy's husband.
Now the police are running out of time, but can Maggie really believe her friend Lucy is a cold-blooded killer?