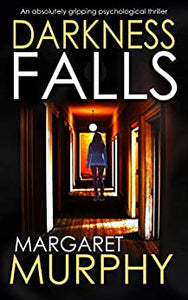 'Darkness Falls is a model of what the modern suspense thriller should be — 
tense, scary, page-turning and stomach-churning
 — because we care most of all about what happens to the characters. Set aside a day — you won't be able to put it down once it has you in its grip.' Val McDermid
'A piece of absolutely terrifying writing . . . 
This is crime's most compelling, chilling book ever.
' 
North Wales Chronicle
CLARA PASCAL HAD IT ALL. NOW SHE FACES HER WORST NIGHTMARE
She's a successful lawyer, beautiful and a devoted mother. People want to be her.
THEN CLARA'S ABDUCTED IN BROAD DAYLIGHT AS SHE TAKES HER DAUGHTER PIPPA TO SCHOOL.
The only witness is her daughter and all she can describe is a man bundling her mummy into a white van.
Now, robbed of everything that gives her life meaning, she lies 
chained to the stone wall
 of a dark cellar – without food, warmth, or sleep, without even the most basic communication.
WHY HAS HE TAKEN HER?
As the police team frantically investigates, knocking on doors, following up wisps of leads, bullying, cajoling, begging witnesses for help, it seems that Clara Pascal has 
disappeared without trace
.
Meanwhile, in her dark prison, Clara begins to suspect why her kidnapper has kept her alive. 
And the reason is terrifying.THE CLIMAX WILL TAKE YOUR BREATH AWAY
This dark, twisting thriller will have you gripped from start to frantic finish. 
Perfect for fans of Carol Wyer, Lisa Jewell, Karin Slaughter, Jess Ryder, Mark Edwards and Charlie Gallagher.DISCOVER AN ABSOLUTELY COMPELLING PSYCHOLOGICAL THRILLER BY AN AWARD-WINNING WRITERPRAISE FOR MARGARET MURPHY
'A skillfully plotted story with 
strongly drawn
 characters.' 
Sunday Telegraph
'Just what British crime writing is crying out for — a compassionate, grass roots British novel with the 
pace, energy and impeccable research
 of an American thriller.' Mo Hayder
'
Sets new standards
 in the psychological thriller . . . It's hard to believe something this assured is a first novel. A remarkable debut — threatening, thrilling and thoroughly authentic.' Val McDermid
'Debut crime novels that can be praised unreservedly are rare. Murphy creates 
terrific menace and tension, well-climaxed
.' Marcel Berlins, 
The Times
'
Exemplary chiller
 . . . If Murphy's appointed task is to scare the reader...she succeeds brilliantly.' 
Literary Review
'
Clara will fascinate readers
 . . . fans will value this dark psychological thriller.' 
Midwest Book Review