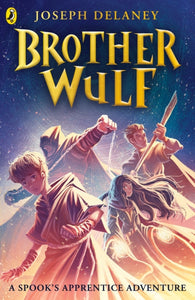 The amazing new Spook's Adventure. You may well have read the original series of 13 books, all titled 'Spook's ….' Then there was the trilogy with Tom as a Spook, the Starblade Chronicles, New Darkness, Dark Army, Dark Assassin.

Don't forget Arena 13 and Aberrations... 

BUT.... At Last!

A new adventure, Tom and Alice are involved, but not focal, we meet Spook Johnson in Salford, and he does not like Witches. But his methods are questionable and others don't like him. 
A truly powerful enemy is at loose and he is in peril, we meet Beowulf, a novice monk and initially scribe, but soon he must tap into his own power and confront utter evil.

Author: Delaney, Joseph, Binding: Paperback, Imprint: Penguin Books Ltd, Series: The Spook's Apprentice: Brother Wulf, Publisher: Penguin Random House Children's UK, Published: 16/04/2020, Pagination: 288 pages, Classification: Reading age: from c 9 years, Country of Publication: United Kingdom