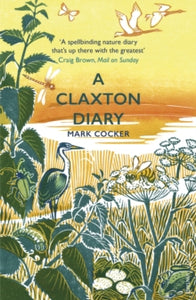 Another beautiful, revelatory country diary from one of the best nature writers in Britain. 'If you've never read Mark Cocker, then you must. His style is sharp, selfless, and wonderfully evocative, his knowledge deep and wide-ranging but lightly borne, his curiosity joyful and infectious.' Mail On Sunday, Books of the YearFor seventeen years, as part of his daily writerly routine, the author and naturalist Mark Cocker has taken a two-mile walk down to the river from his cottage on the edge of the Norfolk Broads National Park.

Over the course of those 10,000 daily paces he has learnt the art of patience to observe a butterfly, a bird, flower, bee, deer, otter or fly and to take pleasure in all the other inhabitants of his parish, no matter how seemingly insignificant. In turn these encounters have then been converted into literary epiphanies that are now a widely celebrated part of his work. In A Claxton Diary he has gathered some of the finest short essays that he has ever written on wildlife.

They range over almost everything he can see, touch or smell, from the minute to the cosmic, from a strange micromoth called yellow-barred longhorn to that fiercest of winter storms the so-called 'Beast from the East'. From the marvellous to the macabre, Cocker tries to capture nature without flinching and in its entirety. In so doing he provides us with a vision of an English country parish that for intimacy and precise detail is comparable with Gilbert White's diary on Selbourne.

Above all he reminds us that we are all just members of one miraculous family, fashioned from sunlight and the dust from old stars.