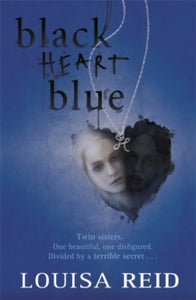 This is the Teen cover, there is an adult covered edition too.
An amazing book... think of a grown up 'Wonder'.

Hephzibah
You've no idea what it's like having a freak for a sister. Rebecca
Born first, prettier, Hephzi's always been the more popular one.
The Father
When he was busy with his bottle we were usually safe.

Usually.
 The Mother
Her specialist subject was misery and lessons of painful silence . .

. Hephzibah and Rebecca are twins. One beautiful, one disfigured.

Trapped with their loveless parents, they dream of a normal life.
But when one twin tragically dies, the other must find a way to escape. Because if she doesn't, she'll end up like her sister .