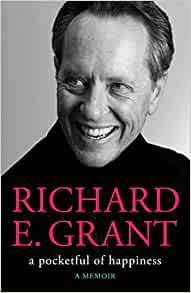 Genuine signed- we get them from publishers direct, price is RRP £20  and free PnP in UK

Show business. And an intimate and heartfelt story of love, loss and a life spent together. It is an honour to be invited in on these diaries. I cannot remember being so moved by a book' Dolly Alderton

'Fascinating, funny and heart wrenching' Dame Julie Walters

'An emotional rollercoaster - profoundly moving and wonderfully entertaining. A brilliant memoir about living, loving and losing' Bernardine Evaristo

'One of the bravest, strongest, funniest memoirs I've ever read' Bonnie Garmus, bestselling author of Lessons in Chemistry

'A deeply moving memoir from one of our greatest actors' David Walliams

Richard E. Grant emigrated from Swaziland to London in 1982, with dreams of making it as an actor, when he unexpectedly met and fell in love with renowned dialect coach Joan Washington. Their relationship and marriage, navigating the highs and lows of Hollywood, parenthood and loss, lasted almost forty years. When Joan died in 2021, her final challenge to him was to find 'a pocketful of happiness in every day'.

This honest and frequently hilarious memoir is written in honour of that challenge –  Richard has faithfully kept a diary since childhood, and in these entries he shares in raw detail everything he has experienced : both the pain of losing his beloved wife, and the excitement of their life together, from the role that transformed his life overnight in Withnail & I to his thrilling Oscar nomination thirty years later for Can You Ever Forgive Me? 

Told with candour in Richard's utterly unique style, A Pocketful of Happiness is a powerful, funny and moving celebration of life's unexpected joys.